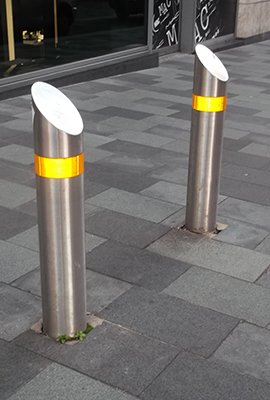 ControlFab manufactures a wide range of durable and resistant steel bollards for different purposes. If you're after a solid, durable and long-lasting product, ControlFab can help. We have a history of providing our clients with high-quality products that are manufactured to Australian standards. As a 100% Australian owned and operated company, we understand the needs of modern Australian businesses.
Fixed, Removable & Mild Steel Bollards
Whether you're looking for fixed, removable or mild steel bollards, ControlFab can customise a solution to fit your needs. We manufacture a wide range of bollards in a variety of thicknesses and diameters to comply with your individual specifications. If you're unsure of what size or style of bollard you're after, feel free to contact us for expert advice.
Our variety of stainless steel bollards can be designed to be bolted to the ground or concealed beneath the ground. The type of fixing is completely up to you. Stainless is highly durable to weather conditions, plus it doesn't stain, corrode or rust as easily as ordinary metals. It's also better at resisting both heat and cold.
Apart from stainless steel bollards, ControlFab also manufactures high-quality stainless steel benchtops, stainless steel grates, stainless steel sinks and stainless steel handrails. For 20 years, we've been manufacturing premium sheet metal fabrication products, building and maintaining long-lasting relationships with our clients.
Call ControlFab today on (03) 9761 8248 to find out more about our sheet metal splashbacks, plasma cutting, metal cutting, stainless steel fabrication and cutting services. Alternatively, you can contact us online.